A year ago, in 2012, we were hectically preparing for Christmas.
Then suddenly the attention of the world was diverted: at Sandy Hook Elementary in the US there was a brutal spree of murders, killing innocent helpless children and adults.
At the time only close friends and family knew, the 14th of December was also the day Kerry, known to many of us as Multiple Mummy, was also taken after a long fight she had courageously fought.
I only found out in the New Year, in a way I was thankful: I thought of Kerry over the holidays and hoped she had managed to go home for Christmas, a festival which meant so much to her. Little did I know that she did go Home, just not the way I, and lots of others, had held out hope for her.
Reading the news of Kerry's death on the 4th of January shook me to the core.  It hit me:
Life really is unpredictable, you never know what is around the corner … and Life has no dress rehearsal!
In reflection, I realised we need to stop waiting around for better weather, for the baby to grow up a bit, to have more money, everyone to be in perfect health and all the other excuses one comes up with. We need to get on with life and create memories now!
We took inspiration from Kerry and her fun-loving spirit and as a result we've had a fantastic year filled with family fun and adventure. I tried to write it in words, but realised pictures captured the moments so much better.
This year has been filled with lots of family frolics.
I encourage everyone to stop waiting around.
There are so many things you can do as a family: if you are stuck inside check out Science Sparks (a site Kerry had founded with friend Emma) for indoor fun and experimentation; if you are looking for outdoor inspiration just search Country Kids for all sorts of outdoor adventures- near and far.
STOP making excuses!  START having adventures!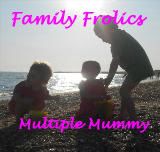 This post has been written in memory of Kerry Farrow aka Multiple Mummy who died on 14th December 2012; deeply missed.
 Please join in the Family Frolics' blog-hop to show Kerry is not forgotten and that her love of family life had a lasting impact on others.